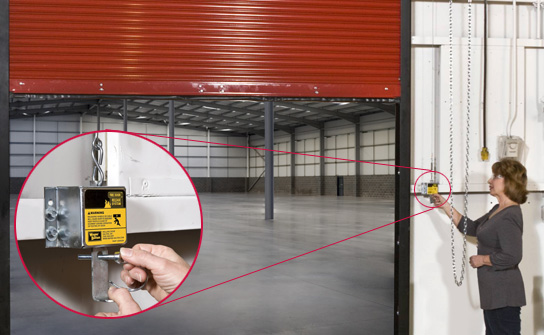 Wayne-Dalton FireStar™ Rolling Steel Fire Doors provide a practical and innovative solution to safety and fire protection. FireStar doors can be drop-tested and reset at any time by anyone, such as a facility manager or maintenance supervisor, thanks to a standard auto-reset feature.

The FireStar door features a forward-thinking design that outperforms industry standard fire doors in all areas, including auto-reset testing capability; smooth, quiet operation; and reliable, long-lasting performance.

FireStar rolling steel fire doors are a simple and innovative solution for your safety and fire protection needs. Critical elements necessary in the reliable function of fire doors are incorporated as standard features with FireStar's revolutionary design.

Safety
The FireStar door can be drop tested easily and reset in a matter of seconds at any time; no tools or service technicians are required. Please note that this can be done in addition to the door's required annual inspection by a trained door systems technician. By self-testing throughout the year, facility personnel can be even more confident that their door will function safely in the event of fire.

The drop-out mechanism is designed to eliminate down time during drop testing, while the viscous governor technology results in smoother, quieter door operation.

Reliability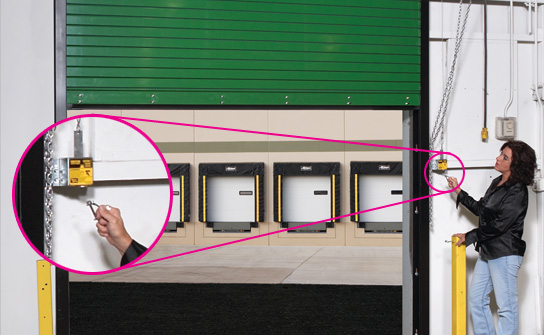 FireStar's revolutionary design uses a patent-pending planetary gear on the drop-out mechanism ensuring years of reliable service and drop-out performance.

Factory tested and approved for a minimum of 20,000 cycles, the FireStar door can be used and tested on a regular basis without concerns of premature failure.

FireStar fire doors have been tested and approved to meet the requirements of well known agencies, such as Underwriters Laboratories and Factory Mutual, and conform to NFPA Standard 80.

Simplicity
Wayne-Dalton incorporates one standardized component design for all FireStar doors regardless of size, and utilizes fewer parts than other models. This helps to ensure more accurate installations and reduces the possibility of potential service calls in the future. And as an added benefit, eliminating one of the fusible link cables helps the door and surrounding area look cleaner and less cluttered. It also reduces the risk of cable interference with other nearby fixtures.

Features

Easy testing and auto-reset
Innovative planetary gear design approved and tested for a minimum of 20,000 cycles
Preassembled drop-out mechanism
Viscous governor technology
Single fusible link cable routing
Standardized component design for all door sizes
Chain hoist or motor operated
Available with left-hand or right-hand operation
UL/FM approved
The FireStar fire-rated counter shutters meet the demands of applications that require a pleasing appearance combined with certified and labeled fire protection for your property. Our innovative and exclusive design provides lift-up operation that is extremely easy to test and does not require tools to reset the mechanism. As an added bonus, the design offers very quiet and smooth functionality.
FireStar fire-rated counter shutters are a simple and innovative solution for your safety and fire protection needs. Critical elements necessary in the reliable function of fire doors are incorporated as standard features with FireStars revolutionary design.
These shutters, which are for openings up to 112 square feet, are compact and pleasing in appearance while permitting frequent opening and closing with optimal fire protection.
FireStar counter shutters have a 3/4, 1 1/2, or 3-hour label rating for masonry or steel jambs (minimum 3/16). Also available in 1 1/2 hour rating for non-masonry walls with 16-gauge steel or wood studs.
Safety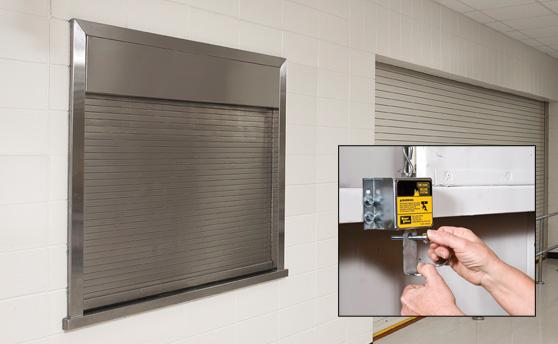 The FireStar counter shutter can be drop tested easily and reset in a matter of seconds at any time; no tools or service technicians are required. This can be done in addition to the door's required annual inspection by a trained door systems technician. By self-testing throughout the year, facility personnel can be even more confident that their door will function safely in the event of fire.
Reliability
FireStar counter shutters have been tested and approved to meet the requirements of well known agencies, such as Underwriters Laboratories and Factory Mutual, and conform to NFPA Standard 80.
Approval/Standard Compliance include:
Underwriters Laboratories (UL) 10(b) Approval
Factory Mutual (FM) Approved Standard 4100 (1990)
Designed to comply with governing standard for installation defined in NFPA 80 (2010)
Simplicity
By eliminating one of the fusible link cables, the door and surrounding area look cleaner and less cluttered. It also reduces the risk of cable interference with other nearby fixtures while making installation and drop testing easier.
Features
Automatic closure in case of fire, but operable for daily use.
Easily tested and reset.
Governor-controlled, safe closing operator speed (over 3wide or 3 high).
Trimline curtain design in galvanize (540) or stainless steel (550).
Lift-up,Crank,andMotor(includingTubeMotor) operating options.
Sealed box-type guides, upward expandable, for snug fit against counter top.
Mounted against face-of-wall or between-jambs for all operation types.
WayneGuardTM Fire Door release system available. Pre-assembled drop-out mechanism.
Single fusible link cable routing. Available with left-hand or right-hand operation.
Optional SmokeTiteTM UL-Labeled smoke and draft control package.
ALSO NEW! Optional fire-rated counter tops to complete the package.